More Recycled Toys, Less Conspicuous Consumption
This year, I decided to buy as little as possible for the holidays and to instead make as many of my son's presents as possible using as much already purchased or recycled material as possible. If you're like me, there are lots of options languishing in your yarn or fabric bins.
Some turned out larger than others. This one is placed on my partner's torso for scale: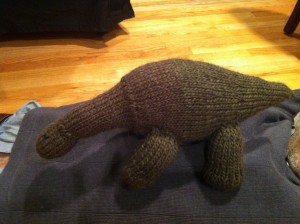 That is one really big toy dinosaur.
I want my son to appreciate handmade items, not mass-produced ones. I want him to play with natural fibers as much as possible, not all plastic all the time.
Also, I want him to know that his mama is a crafty lady. Some day, when he wants a custom Halloween costume, I'll be able to make it. For now, matching mama/toddler fingerless mitts are a good start. Mama pattern here, toddler pattern to follow soon.